21 Aug

Small Things
Sometimes it's just the littlest things…Today was just one of those mornings.
Insurance adjustors rang our phone at about 7 am and woke us both up. They would be inspecting the roof momentarily.
We were up late the night before working on a video project for a mutual client. It needed to be into the network first thing in the morning. I had done the voice over work and my husband was in his office with an editor finishing up the final details. It was almost 3 am when we finished the final project.
So, we knew the adjustors were coming to the house the next day, but we never thought it would be just after sunrise. Then at 8 am, an appliance technician came to fix my French refrigerator that had stopped working yesterday as well, storm surge! I guess I forgot about him too (slightly Freudian)!! Now, I can hear roofers banging above my head and workmen in and out of my kitchen and the garage. I opened one eye and then the other and finally sat up in the dim lite of my room.
I am still exhausted. It is raining outside and clearly; this is not the day that I wanted to be bothered by anyone! My husband cracked open the bedroom door and promised to bring me coffee. Within an hour I could hear a small army of strangers roaming the house and opening and closing ladders and attic doors. I figured I had better just get up.
When the doorbell rang again, I was incensed except this time it was a delivery man with a small box addressed to me.
It was a beautiful candle from one of my favorite boutiques here in town. One of my favorite custom candles imported from Paris and designed by a petite fashionista named Sharla that operates a shop here in Dallas. I was so surprised. My girlfriend all the way from New York had sent it to me.
She came to visit me recently and I took her to Sharla's place. We had so much fun trying on new perfumes and French cosmetics. I remember showing her the candles and even pointing out my favorite scent #1. She remembered and surprised me with a candle.
Who knew a little small box coming in the mail on a rainy Monday morning could bring such joy.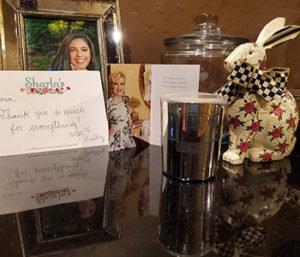 I found the perfect spot for it on a vintage glass and marble table by the staircase next to a little McKenzie – Childs bunny.
It means so much that my girlfriend not only thought of me this week but reached out tangibly to express it. Sometimes the smallest things can make the biggest impact. I went into the den with my coffee. I lit my candle and snuggled on the couch with a soft throw. By the time I emerged, the roofers were gone, and the refrigerator was fixed. My whole attitude had shifted.
It turned out to be a great morning.